If you wish hard enough, it will come true: This is an inspiring quote that is not entirely true since it takes more than "wishing hard" to reach your goals. How do we arrive to the podiums of our dreams then? By analizing the options and building the right path towards your dreams. Is it your dream to build a succesful International career? Take a look to all the perks of IE University's Master in Management. Learn where it has taken our program alumni and where it could take you next.
IE Business School's Master in Management is a one-year, full-time program for junior professionals. It takes place on-site in bustling Madrid and is offered in both English and bilingual (English + Spanish) formats. In this program, you'll receive world-class training, surrounded by business-minded peers from all corners of the world, with expert professors to guide you—a combination that makes this master's program a tried-and-true way to boost your employability.
The Master in Management experience
You may be asking yourself, "Is a master's degree in management worth it?" In a word: absolutely.
Dr. Abha Kiran Padhye, a Master in Management alum, applied the skills she gained in the program to launch a business of her own. "I could never stop imagining how much I could shine as an entrepreneur or as a leader if I could just have the opportunity to enhance my natural set of skills," she says. "I didn't think twice before applying because there was something about the school that convinced me that it was exactly what I'd been looking for."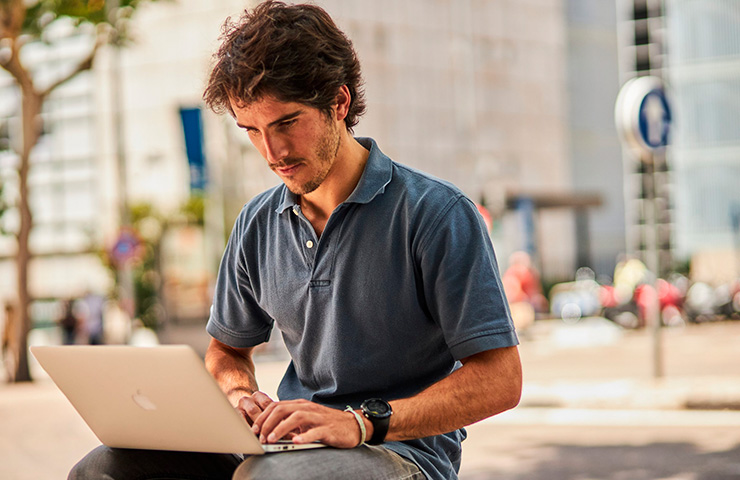 Could the Master in Management be exactly what you're looking for, too? Let's dig deeper to discover if this program is right for your career goals.
What jobs can I land with a Master in Management?
This incredibly versatile program gives you management skills applicable to a wide variety of professions across many sectors. Most of our graduates have wound up in technology (28%), consulting (21%), consumer goods (18%) or financial services (13%)—but that's just a sampling of the opportunities that are out there. The Master in Management prepares you for a wide range of professions, from business development manager to financial services analyst, risk manager, auditor, business mediator and data analyst. The possibilities are endless.
We're proud of our dynamic program alumni, who have landed roles that earn them an average annual salary of €37,209.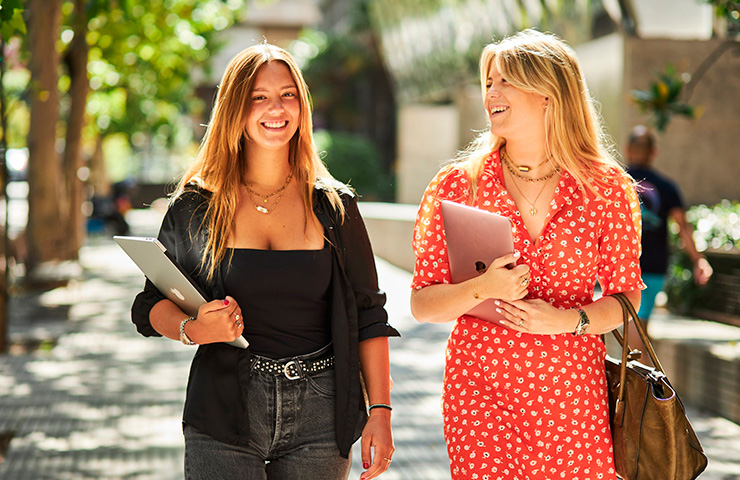 Want to discover the full breakdown of our graduates' career paths? Check out our annual Career Placement Report for a more concrete numerical perspective on our Master in Management alumni and their successes.
What makes the Master in Management stand out from the rest?
The Master in Management is designed to be incredibly well-rounded, broke down into four terms.
During the first two terms, you'll master the building blocks of business management. Beginning with this broad approach lays a foundation that will help you to figure out where your interests lie and easily narrow down the options to choose a track in your third term.
The third term is where you specialize in one of seven tracks (listed below), and during the fourth term, you'll be offered a range of electives that will help you specialize further and gain unique networking opportunities. There are over 50 electives to choose from—many of which overlap with IE Business School's International MBA and Master in Finance degrees, giving you the chance to interact with students from other areas of professional business studies.
In the fourth term, you can also elect to pursue a European Management Track. A collaboration between four leading European business schools—Copenhagen Business School (Denmark), ESSEC Business School (France), and University of Mannheim Business School (Germany)—this track enables you to learn more about Europe, its politics and its leading corporate world.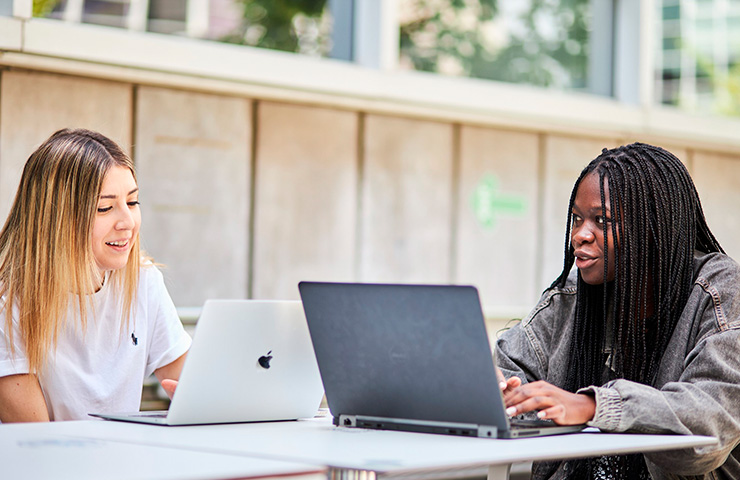 Finally, beyond the classroom, there are several initiatives the Master in Management offers its students in order to make the most of their experience.
Participate in schemes like the Global Immersion Week, the Business Extension Module, or the IE 'Foundations of Sustainability' Certificate to gain that extra competitive edge on your CV before you enter the job market.
What tracks does the Master in Management offer?
The Master in Management offers seven different tracks you can specialize in, starting in your third term:
1. Digital Business: infuse your management skill set with a strong technology component.
2. Entrepreneurship & Innovation: learn budgeting and metrics skills, and foster strong capacities in critical management thinking.
3. Finance: build a strong base in financial statements and budgeting processes, investments and portfolio analysis, capital markets and more.
4. International Business: gain an in-depth look at international corporate strategy, finance and marketing, and management control systems in a cross-border context.
5. Sales & Marketing: dig into the strategy behind product and brand management, strategic sales and key account management, and market and consumer analysis.
6. Strategic Management: develop skills in corporate strategy and decision-making, dive into data visualization and reporting, and learn how to build a multi-sided business model.
7. Business Analytics: learn how to harness business analytics for powerful data-driven decisions that will guide companies in the right direction.
IE Talent & Careers
With the right studies in your portfolio and the help of the IE Talent and Careers team to get you connected professionally, the Master in Management is the perfect foundation for building a dynamic future career.
Take Fabricio Rüegg for example, who has taken the knowledge he gained studying the Master in Management and immediately applied it to launching entrepreneurial ventures of his own, including a delivery service called SwissCo Delivery and an e-commerce website. He says that the program has given him "the tools to become a successful person and create something different."
Soraya Nour, alum and Senior Business Development Representative & Team Lead at Salesforce, explains her experience: "The Master in Management enabled me to expand my professional horizons and begin new journeys that I never thought possible. The program opened my eyes to the privileges and countless possibilities we have access to as IE Business School students, such as learning from the most successful business leaders, while also building a close network of classmates."
Whether you dream of starting your own business or landing a role at a top multinational, IE Talent & Careers will help you carve out your professional paths in various ways.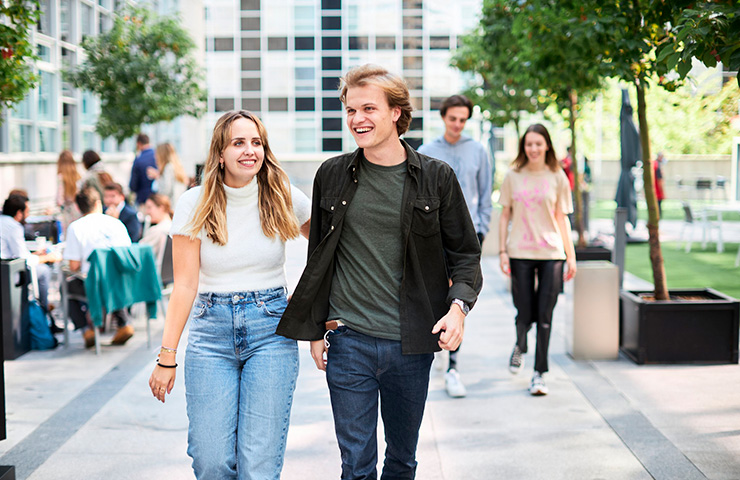 From interview prep to CV and cover letter revision, recruiting events, thousands of job opportunities posted on the job bulletin, company visits, and more, you'll have nonstop support from the moment you enroll until the moment you graduate—and far beyond.
I want to specialize even further. Can I combine the Master in Management with other programs, too?
Unique to IE University, there is a myriad of other Master's degrees available to pair with the Master in Management and create a customized dual master's program. Take a look at our Compare programs tool to find the combination of programs that best fits your interests and goals.