Civil Engineers have pioneered to bore the most difficult and nearly impossible projects around the world. Engineers have literally moved mountains to achieve projects that have a everlasting benefit for mankind and nature. Presented below are projects of magnitude much larger than the confinements of possibility.
Taum Sauk Upper Reservoir Dam Restoration Project (Annapolis, Missouri)
This reconstructed reservoir, after the destruction of the first one, is made completely of roller compacted concrete, dissimilar to the earth fill original. In addition to fill-detection instrumentation it consolidates a spillway to handle any overflow and a video system to monitor the water level. Rebuilding of the dam, made it the worlds largest roller compacted concrete dam in North America.
Falkirk Wheel (Scotland)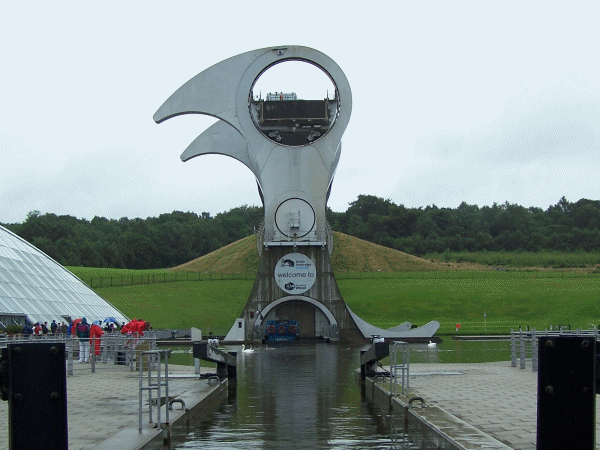 The Falkirk Wheel is a rotating boatlift which joins the two canals, Union and Forth and Clyde Canal, which have a height difference of 24 metres and are separated by half a mile distance. The rotating wheel lifts the boat to a height of 24 meters from where it passes through some pairs of locks into the other canal.
Gravelly Hill Interchange (Birmingham, United Kingdom)
Gravelly Hill Interchange also known as Spaghetti Junction, due to its complex design, is one of the iconic civil engineering work.
This junction is spread across 30 acres and has 18 routes which include slip roads ( 4km or 2.5 miles). It has a total of 559 concrete columns and passes over two railway lines, three canals, and two rivers. The construction work started in 1968 and was completed in May 1972 and till date its considered as one of the most complicated road network in world.
Palm Island (Dubai, United Arab Emirates)
The Palm islands comprises of approximately 100 million cubic meters of rock and sand. In total, 210 million cubic meters of rock, sand and limestone were reclaimed through dredging to create the island, with 10 million cubic meters of rock used in the outer ring alone. The rocks used for both islands were transported from 16 quarries throughout the UAE and the materials used are enough to build a wall that could circle the world three times.
Burj Khalifa (Dubai, United Arab Emirates)
Burj Khalifa is the tallest man made structure in the world at 829.8 meter. It weighs about 500,000 tons and rest on 3.7 meter thick triangle frame foundation, supported by round steel piles measuring 1.5 meter in diameter and extending 50 meter below the ground.The crowning touch of Burj Khalifa is its telescopic spire that is comprised of more than 4,000 tonnes of structural steel.The total cost for the Burj Khalifa project was about US$1.5 billion
Golden Gate Bridge (San Francisco, United States)
Golden Gate Bridge has been named a historic civil engineering landmark by American Society of Civil Engineers (ASCE). The construction began in January 1933 and the project costed more than $35 million, completing ahead of schedule and under budget. Each of the bridge's two main cables is made of 27,572 strands of wire and together the wire is roughly 80,000 miles long. The bridge required 600,000 rivets to build. The almost 1.3 mile wide "Golden Gate" strait, strong winds, and earthquakes all posed significant obstacles to building the bridge that would connect San Francisco to the rest of the bay.
Panama Canal
The 47 mile long waterway connects the Atlantic and Pacific Oceans, allowing ships to pass between North and South America instead of the natural channels or around Cape Horn, shortening the trip by 9,000 miles. More than 60 million pounds of dynamite were used to build it and 40,000 workers moved enough dirt to bury all of Manhattan 12 feet deep. Each of the movable lock door weighs 750 tons and fills with 52 million gallons of water.